Wanita ini diam-diam foto pria tampan di kereta, akhir kisahnya jadi viral.
Transportasi publik menjadi kendaraan pilihan banyak orang karena dinilai lebih praktis dan ekonomis.
Mengendarai transportasi umum juga membuat seseorang bekesempatan bertemu dengan orang-orang baru.
Hal tersebut juga dialami wanita bernama Loiba yang berprofesi sebagai pelatih Brazilian jiujitsu.
Kisahnya jadi viral usai dibagikan ke media sosial.
Kejadian tersebut berawal saat Loiba pergi ke Manhattan naik kereta minggu lalu, melansir BuzzFeed.
Pada saat itulah, Loiba mengalami kejadian tak terduga.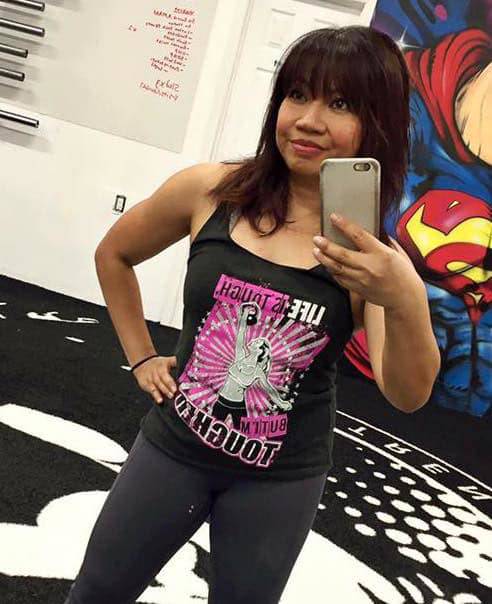 Loiba (BuzzFeed News )
Dirinya bertemu dengan seorang pria tampan yang duduk tepat di depan kursinya.
Pria tersebut memakai baju dan celana denim hitam, serta mengenakan mantel biru tua.
Loiba menilai pria berjambang tersebut tampak tampan, menarik dan familiar.
Bahkan, Loiba mengaku menatap sang pria selama perjalannya.
"Aku mencoba mencari tahu siapa dirinya," ungkapnya pada BuzzFeed.
Merasa terpesona, Loiba pun memutuskan diam-diam mengambil foto sang pria ganteng.
Dirinya sengaja mengambil banyak foto agar bisa terus mengingatnya.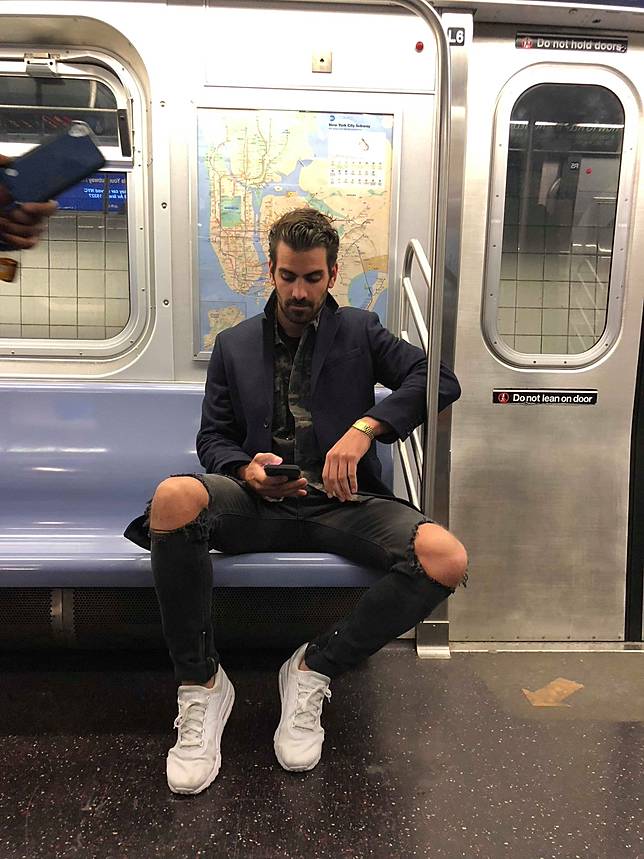 Loiba mengambil foto pria tampan di kereta ( Loiba vs BuzzFeed News )
Selama akhir pekan, Loiba melihat sebuah artikel di halaman Facebook-nya.
Tak disangka, dirinya melihat sosok pria yang sama.
Akhirnya, Loiba tahu bahwa pria tersebut adalah model yang mengikuti ajang America's Next Top Model Seri 22.
Pria bernama Nyle DiMarco ini juga seorang aktivis tuna rungu.
Meksi kaget tahu identitas pria tersebut, Loiba mengaku ingat saat mengikuti acara tersebut.
Nyle juga adalah juara dari program Dancing With the Stars musim 22 saat berduet dengan Peta Murgatroyd.
Tapi, untuk memastikan, Loiba pun mengunggah foto Nyle ke laman fans resminya di Facebook.
Pria tersebut bernama Nyle DiMarco (Loiba vs BuzzFeed News )
"Aku rasa aku melihatmu di E train minggu lalu.
Jika ini kamu, kamu sangat tampan di dunia nyata!" tulisnya.
Tapi, hal mengejutkan tak berhenti sampai di situ saja.
Nyle juga memberi respon yang mengejutkan.
Pria tersebut membenarkan bahwa itu dirinya.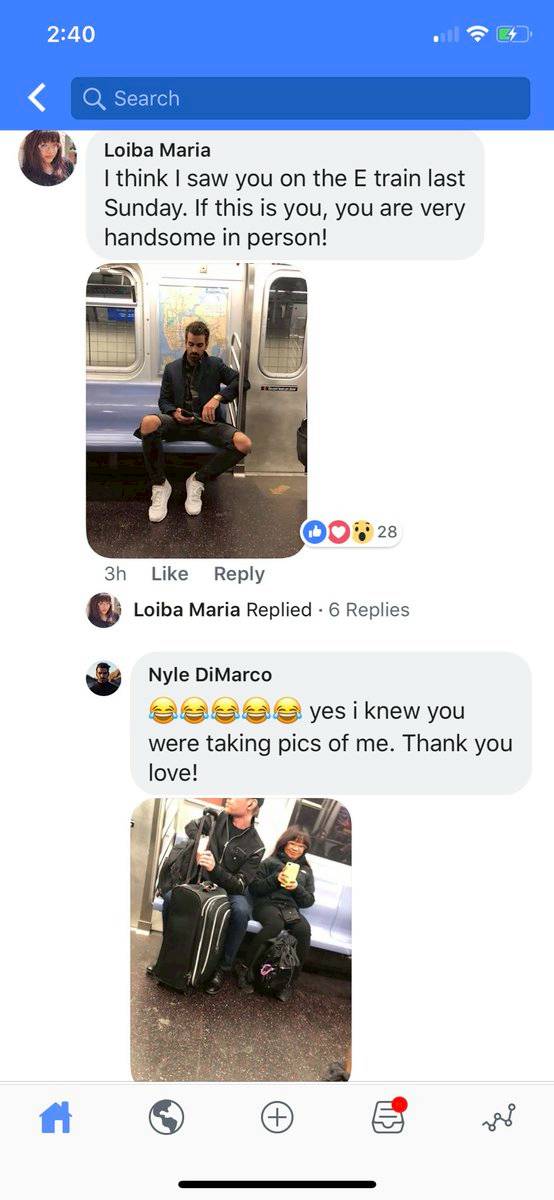 Unggahan Nyle DiMarco (Twitter/NyleDiMarco)
Nyle juga mengunggah foto Loiba di kereta saat wanita tersebut diam-diam mengambil fotonya.
"Ya, aku taku kamu mengambil fotoku. Terima kasih, cinta!"
Sebaliknya, Loiba justru tak sadar diam-diam difoto oleh Nyle.
Model ini mengunggah kejadian tersebut ke akun Twitter-nya dan jadi viral hingga dibagikan lebih dari 46 ribu kali.
Banyak netizen menganggap kejadian ini lucu, tapi juga manis.
Beberapa orang juga menyoroti ekspresi Loiba yang tampak bahagia saat diam-diam memotret Nyle.
Bahkan, aksi Loiba ini juga dilakukan orang-orang saat melihat pria tampan di tempat umum.
Nyle mengaku punya mata yang peka.
"Aku sangat sadar dan langsung melihat kameranya diarahkan padaku."
Meski difoto diam-diam, Nyle sebenarnya berharap bisa foto bersama Loiba sebelum turun.
Apa kamu pernah mengalami kejadian serupa? (TribunStyle.com, Anggra)
Artikel Asli : http://style.tribunnews.com/2018/04/25/wanita-diam-diam-foto-pria-tampan-di-kereta-sekilas-biasa-tapi-ada-keanehan-akhirnya-jadi-viral